—

Our Response to

COVID-19
"For God hath not given us the spirit of fear; but of power, and of love, and of a sound mind." – 2 Tim 1:7
Due to this unprecedented time, we are offering a social distancing service on Sunday mornings in the gym for those who would like to come to church, but need to take the extra precautions. You can enter the gym through the outside gym door on the West side of the building. Masks are required in this area.
We are live streaming all of our regular services:
Sundays @ 10:45 am & 6:00 pm
We have resumed some Sunday School classes at 9:30 am. Children's Church has also resumed during our morning service for children 2 years old through 3rd grade. We have recently reopened all of our children's classes and nursery.
Check our FaceBook page for most recent updates.
—

Welcome!
Family. Friends. Those are two words that describe the wonderful relationships we share at Bible Baptist Church. That's why we call our church a family of friends and a friend to the family.
At Bible Baptist Church, we want you to feel at home, to be a part of the family. It all begins with being part of God's forever family, being united by faith in our Lord and Savior, Jesus Christ.
Bible Baptist is a family that cares. We care about babies, children, teens, college students, singles, men and women, young and old, young families and grown families. We care about music, Bible truth, sending the gospel around the world and reaching those in our own neighborhoods. We want to be here for you in moments of triumph and times of trouble – because we are a family that cares.
In Christ, Pastor Stephen Volante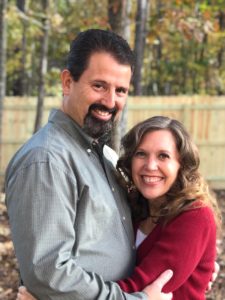 —

Trusting the Good Shepherd – Revival Services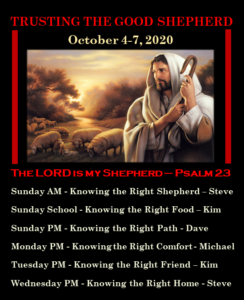 Because of Dr. Tim Lee's unexpected cancellation due to being tested positive with COVID-19, Pastor Steve has been praying about what God would have us to do. God has laid it on his heart to change the thrust of our "Rekindle the Fire" revival service. We are going to study afresh and anew the truths found in Psalm 23 about the Good Shepherd.
With COVID on the rise, protests all over our country, unemployment all around us, and the presidential elections ahead of us, we believe Christians everywhere need to humble ourselves, turn from our sins, and pray that God would heal our land. During each service, we will hold a special prayer time to mention specific requests we want to lay before the Lord. Would you set aside the time to join us in person at Bible Baptist Church, Chickasha, or join us online by watching via live stream?
If you missed a service, you can click here to watch it.
— Family fun Night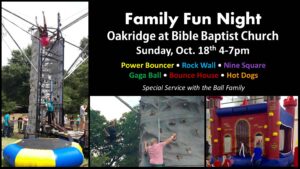 Want to join our online community?
At Bible Baptist we encourage all our church family to stay up to date on all things BBC. We do this through our Church Community Builder or CCB. Get your account to our Bible Baptist Chickasha CCB started here.